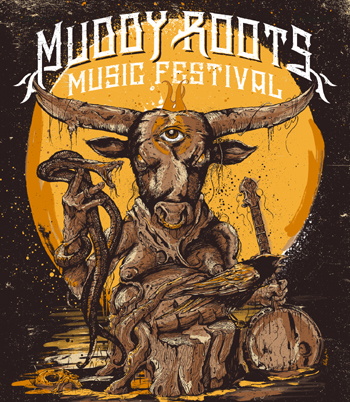 We got the chance to ask Jason some questions about the upcoming Muddy Roots Festival, crazy Goddamn Gallows shows, and dead country musicians. Check it out below!
1.       We had so much fun with all the great people at Muddy Roots last year. Do you expect a similar turnout this year, or do you think it's going to be even bigger? 
 I think it will be close to double what we had last year. We don't want it to get too big though.
2.      The lineup this year looks amazing once again, and we're especially excited to see Ralph Stanley on it. What were your favorite performances last year, and who are you looking forward to most this upcoming festival? 
 To be honest I didn't see much of it. I am too busy running around making things happen to stop and enjoy it. I will usually stop for a song every few hours if I can. There was one  exception and that was the Goddamn Gallows set. The rain forced everyone into the tent and the crowd was rowdy as hell so I had to rush into the pit to protect the tent pole from being knocked over. The sound guy asked me if I wanted to stop the show and I said hell no! A few of us buffered the tent pole from the wet and muddy riled up crowd. You can say I caught that whole set.  Good times indeed.
3.       We definitely dug the festival's setting. Do you plan on keeping it at the same place in the future?
  It will be back at the Junebug Ranch in 2012 for sure.  There is something just right about hosting a festival like ours on a private & biker owned ranch in the middle of nowhere, Tennessee.
4.      What challenges did you face in setting up a European Muddy Roots? And what's the setting of that going to be like? 
 Funding is always a huge challenge. We need sponsors and vendors.  I get up early every morning to speak to the venue owner on IM to hash out the details. It has been great for learning the customs and laws of the land in another part of the world.  It is being held at Cowboy Up American Steakhouse Saloon in Belgium.  It is set on a 4 acre plot of land used for hosting American car shows and rodeos.  Seems  like the right place for us!
5.       Are there any bands that you'd really like to have at the festival in the future?   
Tons, too many.  There are literally hundreds of bands I'd like to book.  The more tickets we sell the more bands we book so keep an eye out. We'll squeeze in as many as we can ever year.
6.        Last question: If you could bring back one dead musician to play the festival, who would it be?
Again, too many to list but the first thing that popped into my head was Jimmie Rodgers and Leadbelly.